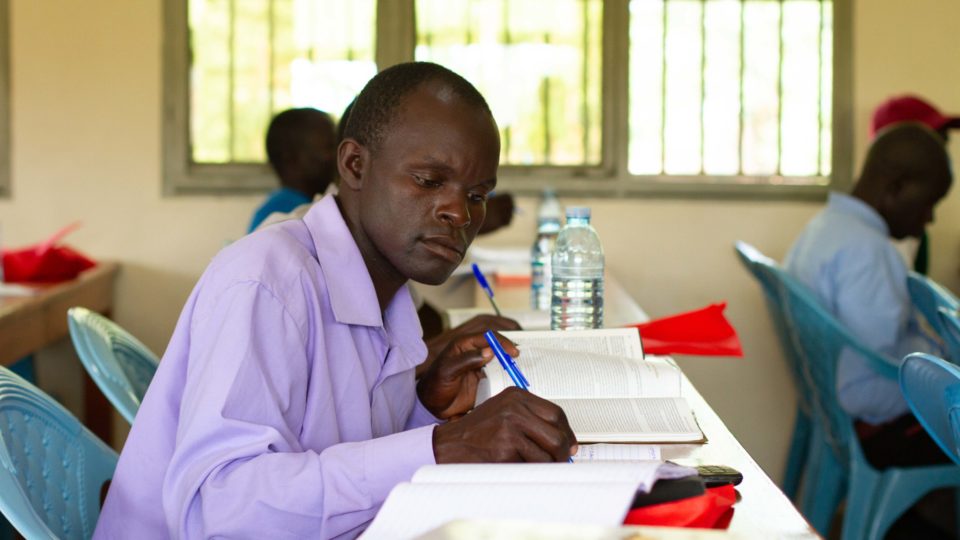 "The Jesus told his disciples, 'If anyone would come after me, let him deny himself and take up his cross and follow me.'" (Matthew 16:24)
Jesus spoke about how much it would cost a person to follow Him on several occasions. At other times, Jesus set the bar very high for the kind of righteousness and obedience that is required for entering the Kingdom of God. It is very intimidating to set ourselves against these standards because we know that they are too high for us. Denying myself is hard when it comes to saying no to another episode of my favorite show on Netflix or less of my favorite dessert. So denying myself and taking up a cross is well beyond my strength! Moreover, having a righteousness that exceeds that of the Pharisees is way beyond my meager righteousness.
What can we do?
The most basic thing is to realize we need the Lord to do something in us. We need a foreign righteousness (Christ's). We need the Holy Spirit to draw us to repentance and faith. We need the empowering of the Spirit to walk in a manner worthy of the gospel and to deny ourselves. It is not natural to us to repent, to deny ourselves, or to honor God as Father. We need a supernatural intervention.
What kind of message have you been hearing or sharing?
The concept of costly vs. cheap grace is an old one. Bonhoeffer talked about it in his book The Cost of Discipleship. I think we can easily fall into the trap of offering a cheap form of Christianity to people. A version that says all you need is intellectual assent to some facts. Jesus made following Him difficult on His disciples (John 6:52-71). We must not be guilty of saying that it is easy or cheap to follow Jesus. While we do not earn salvation or keep it by good works, we as Christ's disciples must walk on the narrow way of faith. By faith, we take the yoke of Christ. We love the commands of Christ (and obey them) because He first loved us and gave Himself up for us. The grace of God, when it comes to us, changes our lives. That is a costly change, even if we don't all go to the mission field or become full-time vocational ministers. Jesus is the Lord of your life. What is He commanding you to do?
The Cost of Discipleship
"Take up your cross and follow me."
"Don't look back once your hand is on the plow."
"Go, make disciples of every nation."
It is expensive to disciple someone. You know that to be true in your own personal walk with Jesus. We call daily Bible reading a discipline. Jesus compares the life of a Christian to farming, manual labor. People die on crosses—Jesus did—and you are called to pick yours up. It is even more costly to disciple someone else. We cannot see into the heart/mind of the person with whom we am working. There is so much trust in that relationship. Time, energy, love, and wisdom are needed as we walk with other people through the Christian life. It is even more costly to disciple abroad. A well-prepared discipler must be sent out. That person must learn new everything: language, customs, foods, and routines of life. All the while, that discipler must be walking with the Lord himself or herself. We might be tempted to opt of discipleship—it is just too costly.
To do so would be to abandon the clear command of Jesus, "Go, make disciples of every nation."
Let's go together to make disciples of every nation.
Want More Content Like This?
We will deliver Reaching & Teaching articles and podcast episodes automatically to your inbox. It's a great way to stay on top of the latest news and resources for international missions and pastoral training.