Avoiding Paralysis of Analysis in the Christian Life: A Review of Just Do Something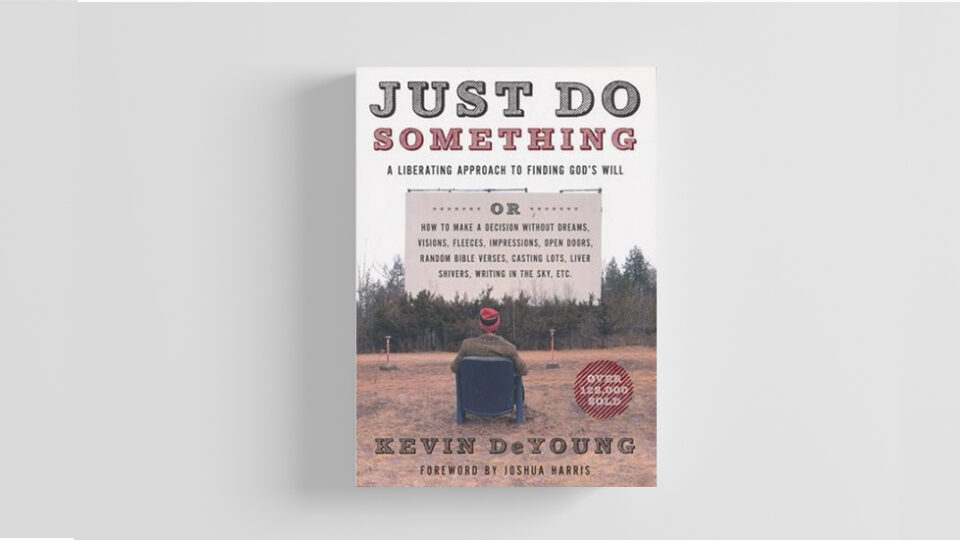 DeYoung, Kevin. Just Do Something: A Liberating Approach to Finding God's Will. Chicago: Moody, 2009.
I spent last week at CROSS, a missions conference for college students and young adults. If you're like me, perhaps you remember that formative stage of life. So many important decisions stood before you—and so little personal experience and wisdom stood behind you.
"What does God want me to do with my life?" The truth is, many Christians struggle to answer that question. They don't know how to make hard choices, and so they freeze. Thankfully, we have books like Kevin DeYoung's Just Do Something: A Liberating Choice to Finding God's Will. In this book, DeYoung sets out to help the reader in three primary ways: (1) avoiding the procrastination and passivity that often accompanies the weight of major decisions, (2) realizing that God expects us to know His clearly revealed will in His Word, and (3) as a result of knowing God's will, He expects us to act on that knowledge and to do something for His glory and for our good (7).
Paralysis of Analysis – When the Weight of Major Decisions Leads to Passivity and Procrastination
The weight of decision-making often causes Christians to sit back and do nothing. DeYoung coins the term "Adultolescence" (10), referring to the increasingly common reality that many people extend their adolescence through adulthood. Here's but one example: "In 1960, 77 percent of women and 65 percent of men completed all the major transitions into adulthood by age thirty. These transitions include leaving home, finishing school, becoming financially independent, getting married, and having a child. By 2000, only 46 percent of woman completed these transitions by age thirty, and only 31 percent of men" (11).
DeYoung believes that a misunderstanding about how to discern God's will has led to this paralysis of analysis. Christians have so many options to choose from that they end up meandering through life as if it "were a mark of spiritual sensitivity" (11). A biblical definition of God's will is the remedy to this endemic inactivity.
Discerning the Will of God Biblically
The middle chapters of Just Do Something explain how Christians can make decisions that please the Lord (53). Ultimately, Jesus teaches His disciples to "seek first the kingdom of God and his righteousness" (Matt 6:33). DeYoung makes it clear that while God is sovereign and ordains every detail of His children's lives, "the question God cares about most is not 'Where should I live?' but 'Do I love the Lord with all my heart, soul, strength, and mind, and do I love my neighbor as myself?' (Luke 10:27). It's that second question that gets to the heart of God's will for your life" (54).
Put simply, God has already revealed exactly what He desires for believers: "For this is the will of God, your sanctification" (1 Thess 4:3). Above all else, God wants believers to seek Him with all their hearts and then live as they please for His glory. DeYoung concludes, "His way is to show His holiness, declare us holy in Christ, then exhort us to grow in holiness in daily life" (56).
As Christians, we should focus on whether or not we're pursuing Christ-likeness rather than whether or not we're pursuing the right career. God simply doesn't reveal which jobs we should take, and which we should look over. But he does reveal how to "walk in a manner worthy of the Lord, fully pleasing to him, bearing fruit in every good work, and increasing in the knowledge of God"—regardless of where, when, or how that may specifically play out over the course of their lives (56).
With This in Mind—Just Do Something for God's Glory!
In the end, DeYoung wants his readers to understand that discerning God's will is not like a choose-your-own-adventure book in which you may end up living a miserable life because you didn't choose the correct page at some point along the way. God isn't hiding his desires for us in some secret place that we must discover through obedience.
In fact, the truth is quite the opposite. In the Bible, God has clearly revealed all that is needed for a life that is fully pleasing to Him. As Augustine said, "God commands what He wills and grants what He commands" (119).
If we truly believe in the sovereignty of God, then we ought to trust him with our lives. I love DeYoung's conclusion: "[T]he end of the matter is this: Live for God. Obey the Scriptures. Think of others before yourself. Be holy. Love Jesus. And as you do these things, do whatever else you like, with whomever you like, wherever you like, and you'll be walking in the will of God" (119).
Conclusion
As a mobilizer with Reaching and Teaching, I consistently talk with believers who are exploring the possibility of moving to the mission field. I often tell them the desire to serve overseas must be fueled by more than some sort of ascetic duty. A book like Just Do Something helpfully explains the biblical principle behind Psalm 37:4 "Delight yourself in the Lord, and He will give you the desires of your heart."
God shapes the desires of His children to want what He wants for them. For some, this includes a heart for moving overseas and serving as a missionary. For others, it includes anything from a deep longing to stay home and serve in a local church to a career in a secular vocation. God then proceeds to grant opportunities and giftings to accomplish exactly what he already has planned for each individual (Eph 2:10).
When we trust the sovereign, gracious Lord of the Bible, then we may live the Christian life confident that "God gives His children the will to walk in His ways—not by revealing a series of next steps cloaked in shadows, but by giving us a heart to delight in His law" (119).
Want More Content Like This?
We will deliver Reaching & Teaching articles and podcast episodes automatically to your inbox. It's a great way to stay on top of the latest news and resources for international missions and pastoral training.