"All I Need Is the Bible and the Holy Spirit."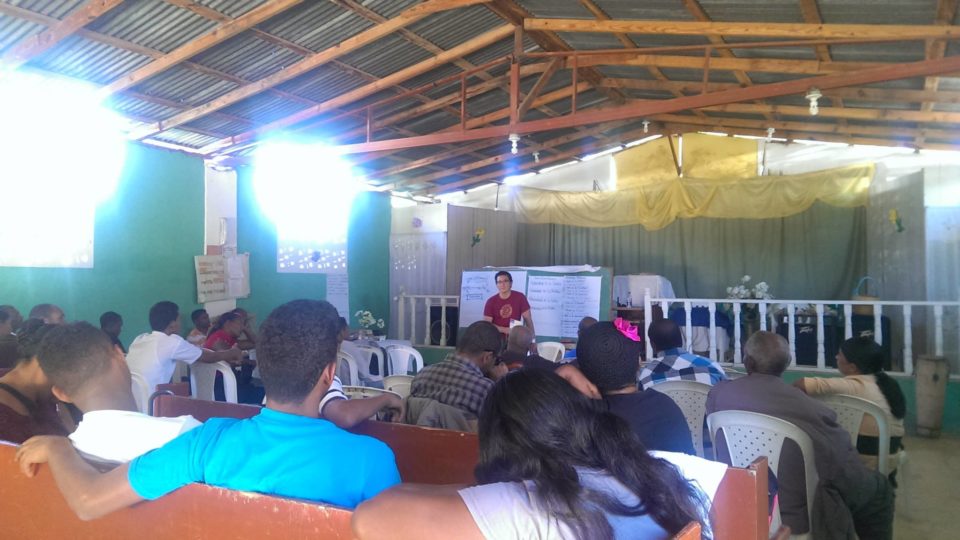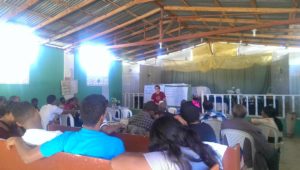 As I sit aboard a plane bound for the U.S. from the Dominican Republic, I can't help but reminisce about the past three years and the process of Christian
transformation. I'm returning from El Cercado, where we recently completed the eighth of nine training modules in the Reaching and Teaching pastoral training program. We are just one trip away from completing a process that began almost three years ago.
My Journey and a Growing Conviction
Before telling you about El Cercado, let me briefly share my own journey. For eight years, I worked in international Christian relief and development. I was driven by the need for the Latin American church to be strengthened and equipped for a greater impact in local communities. I began to realize that while clean-water wells and medical clinics will always meet felt needs and generate opportunities for the gospel to transform lives, they will never have the enduring impact of long-term ministry that seeks to transform lives through renewing the mind.
Over time, wells will run dry or become contaminated, and those treated by a medical mission team will eventually need another doctor. But a person whose worldview has been transformed by a deeper knowledge of God and a deeper understanding of His Word will never be the same.
In 2012, God led me to leave the mission field where I'd served for over eight years in order to attend seminary in Louisville, KY, where my studies focused on both missions and Christian education.
Shortly after I made the decision to attend seminary, a friend commented to me, "There's no way you're going back to the field. You'll likely connect with a large church during seminary and get complacent in a comfortable job there. You'll forget why you went to seminary in the first place." Obviously, I responded, "No way!" Yet, this comment kept nagging at me.
God used this conversation with my friend to lead me to Reaching & Teaching. I discovered a kindred spirit and what I believe is the best platform for serving the church in the developing world – training Christian leaders. During my first seminary term, I helped Reaching & Teaching launch pastoral training sites in the valley of El Cercado, Dominican Republic, near the border with Haiti, and in Belladere, Haiti, just inside the Haitian border. During the last three years, thirty pastors and church leaders have attended all eight training modules, and another twenty have attended as their school or work schedules allow.
Transformation Takes Time
No one can unlearn in a week what he has known his entire life. One of the most rewarding aspects of the Reaching & Teaching model has been the incremental progression over the course of the training courses. Over these three years, our relationships with our students has grown and deepened, allowing us to more effectively minister to them. We've also grown together in our knowledge and understanding of God's Word, making our discussions rich as the students begin to grasp the truth as it taught.
Let me tell you about Pastor Francisco. During our initial training module in El Cercado, Francisco confidently told us that he'd been a pastor for over thirty years and that all he needed was his Bible and the Holy Spirit to guide him. Yet, at the close of that very week, Francisco said, "I've been a pastor for thirty years and before this week, I didn't really know the gospel." In the eight weeks of training since, Francisco has become our most dedicated student, and we've seen him grow tremendously.
During this last training module centering on Biblical counseling and family ministry, Francisco shared several examples from his personal devotional life and his sermon preparation, in which he used hermeneutical principles or communications skills to make his study more fruitful. It warmed my heart to see him guiding others who had not made the same type of progress.
To date, the course in counseling and family ministry was our most practical, hands-on training with this group. It was fascinating to see how our students drew from both concepts studied in previous classes and also their own ministry experiences, giving testimony of how they have been implementing the truths that they've learned.
As we approach the final week of training, I have no doubt that there will continue to be biblical study and transformation in El Cercado – not just in Pastor Francisco, but in the many pastors who are displaying fruit there. I praise the Lord because they now have the necessary tools to effectively share God's Word with their own people.
Looking to the Future
The week following the training in El Cercado, we met with another group of church leaders on a different part of the island. There were around fifty participants from the province of Monte Plata, and we were able to present the Reaching & Teaching model to them. The response from these pastors was amazing! They told us that the training opportunity is an answer to their prayers and that they are anxious to start a training program in their area. This summer, we plan to complete the training program in El Cercado and begin the program in Monte Plata. Praise God!
Thank you for supporting Reaching & Teaching and the work we're doing to equip the church around the world. Please continue to pray for us and for those we serve. Also, please seek the Lord's face in what he would have you do. Go with us. Give to support the work. Most of all, pray that God would provide workers, resources, and fruit for his glory.
Want More Content Like This?
We will deliver Reaching & Teaching articles and podcast episodes automatically to your inbox. It's a great way to stay on top of the latest news and resources for international missions and pastoral training.