Report from Chazuta, Peru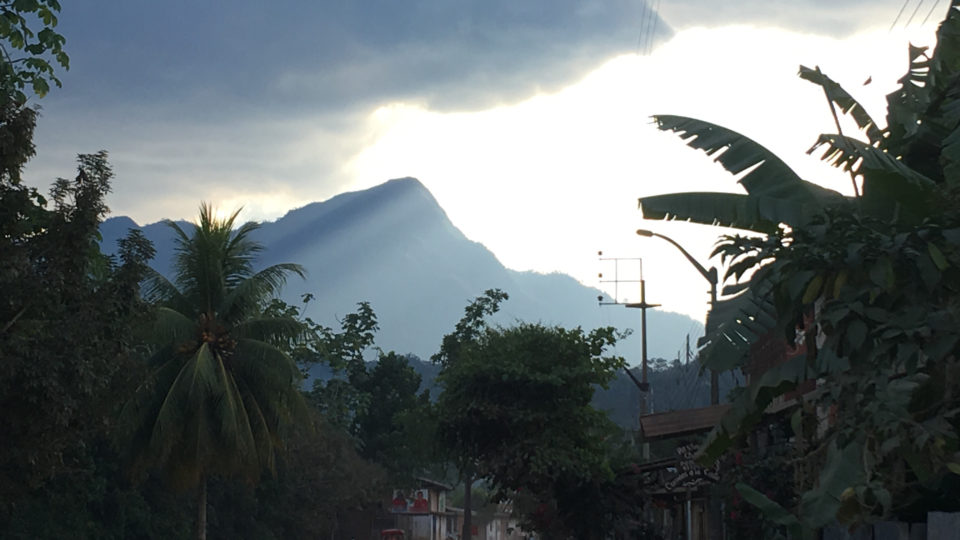 It is not every day that my work feels significant. In day-to-day life, the ultimate meaning of my work often gets swallowed up in the details. A few weeks ago, I got to see first-hand how the work of Reaching & Teaching, and my work within Reaching & Teaching, is truly important.
I bet you haven't heard of Chazuta, Peru, unless you have been blessed enough to have visited. Tucked away in the Peruvian rainforest, I spent a week training a group of 30 pastors and pastors-in-training. In such a remote and small location, it might be hard for you to imagine the significance of this training. But, over the week of eating with, talking and listening to, praying with, and teaching these men, I got a glimpse of the long-term impact made by a little bit of teaching. It extends far beyond just that one week! In fact, by training and strengthening churches in the Peruvian jungle, we are a part of making the worldwide witness to Jesus stronger.
Chazuta, Peru is a small village in the foothills of the Andes mountains near Tarapoto. The small town is bordered by a river and has one main street. There are no super markets, and I think I saw more tool stores than anything else. It is an agricultural community where fruit is literally falling off the trees. Reaching and Teaching has been working in Chazuta for several years, and there have been two groups of pastors studying through the basics of theology and ministry training with us.
On Sunday, August 12th, half of our team was delayed in Lima, Peru—you have to be flexible to serve internationally! So, our local long-term missionaries, Andy and Courtney Miller, and I headed off to Chazuta. After checking into our hotel, we met up with Pastor Jairo, our contact in Chazuta, at his house.
Pastor Jairo showed us around the church property and introduced us to the staff at Radio Logos, where they transmit sermons and Christian music into 12 native languages. We shared some fresh coconuts and then spent the rest of the afternoon with the church. Tim Killillay (a missionary serving in Cusco) and two brothers from South Carolina arrived early Monday morning, and we started teaching.
Tim, Andy, and I taught a group of 12 pastors and church leaders about preaching, and the second group studied the book of Acts. Throughout the week, we got to know the pastors and answered many interesting questions. By God's grace, between a good translator and our Spanish, the communication was good and everybody learned a lot.
Chazuta is close enough to many of the local area churches that we were able to split up and all go to different churches to preach. The entire experience was positive and encouraging. The pastors and church leaders in Chazuta really want to learn and live out the training. Honestly, there is simply too much to tell to relate the entire week into one post, but I think I can crystallize the impact of the week into two anecdotes.
On several occasions, we had the opportunity to sit and talk to Pastor Jairo. During these times, he shared about the situation in the Peruvian jungle—namely, that there are several language groups that are unreached by the gospel. Every language represents a people group that needs churches and theological formation for their pastors. Because so few of the deep jungle people groups speak Spanish, most of the groups have never had any kind of theological training. Moreover, Pastor Jairo told us about two uncontacted people groups in the deep jungle. You read that correctly! There are still two completely uncontacted people groups. Pastor Jairo spoke with passion, sharing the overwhelming need for more missionaries and more theological training so that the gospel of Jesus can reach out to the native peoples living deep in the Amazon jungle.
On Wednesday, I had the privilege of spending the evening with a pastor and his family. I had dinner in his home and enjoyed freshly roasted homegrown coffee and a fun conversation. The pastor and I spent a good portion of our time discussing his sermon for our class the next day. He was applying both the teaching and the example demonstrated by our team that week as he prepared. He shared how much of his life has been transformed by the training he has received.
After a sweet yet humble meal, we set off for the church. The church building collapsed about a year earlier, but they worked and saved so that all the building materials had been purchased to build a new building. For the time being, the church meets in a simple shelter constructed on city land with permission from the city. This little open air shelter filled to about 25% before we started singing the first hymn. After the singing was done as I was rising to preach, the place was filled to standing room only. They weren't there for me. They had come to hear the Word of God, and I happened to be the person providing that teaching that night. I was struck by the realization that the training Reaching & Teaching has done at this site, including our training that week, helps the pastor reach almost 80 people, three times a week.
I wish it were easier to see the impact of what I do day to day. The daily grind of work gets in the way of seeing the Lord's hand sometimes. My week in Chazuta showed me that the Lord is at work, and He uses my feeble efforts to further His kingdom.
I believe this work is so important because it builds up the entire body of Christ. One week of my life spent training a group of pastors in the jungle of Peru helps encourage my home church to invest more in missions. It helps support the work of missionaries serving in Peru. It confirms the brothers receiving the training that the faith they have is shared by many more people. The training is then used to build up and send out more people from the churches to faithful service.
Hundreds of people are directly involved in every trip Reaching and Teaching takes from local churches sending to team members going to pastors and missionaries receiving the team, and that is just the beginning. Many thousands more are impacted as the training passes from one person to the next. We may not always get to see the impact of our work, but we can rest assured that the Lord is at work expanding His kingdom. It is a joy to be a part of that.
To learn more about trips to train pastors check out: reachingandteaching.org/short-term-missions
Want More Content Like This?
We will deliver Reaching & Teaching articles and podcast episodes automatically to your inbox. It's a great way to stay on top of the latest news and resources for international missions and pastoral training.